The Best Electric Scooter For Commuting: 5th Wheel G1 Electric Scooter
5th Wheel G1 First Impressions
Is the 5th wheel G1 one of the best electric scooters for commuting? I would say yes. Here are my first impressions. I have been very impressed with 5th wheel in my experiences so far. The G1 comes packaged well in a box with lots of foam surrounding the electric scooter to prevent any damage during shipping. When you first open the box you will see the charger and instructions in their own special area of the box. The 5th wheel G1 is easily removed from the box and the foam padding. The only assembling you have to do is to plug the handlebars into the plug in the stem and then use 4 screws to attach the handlebars to the scooter. And that's it! You are ready to ride! However, I would suggest charging the G1 first as they ship only partially charged.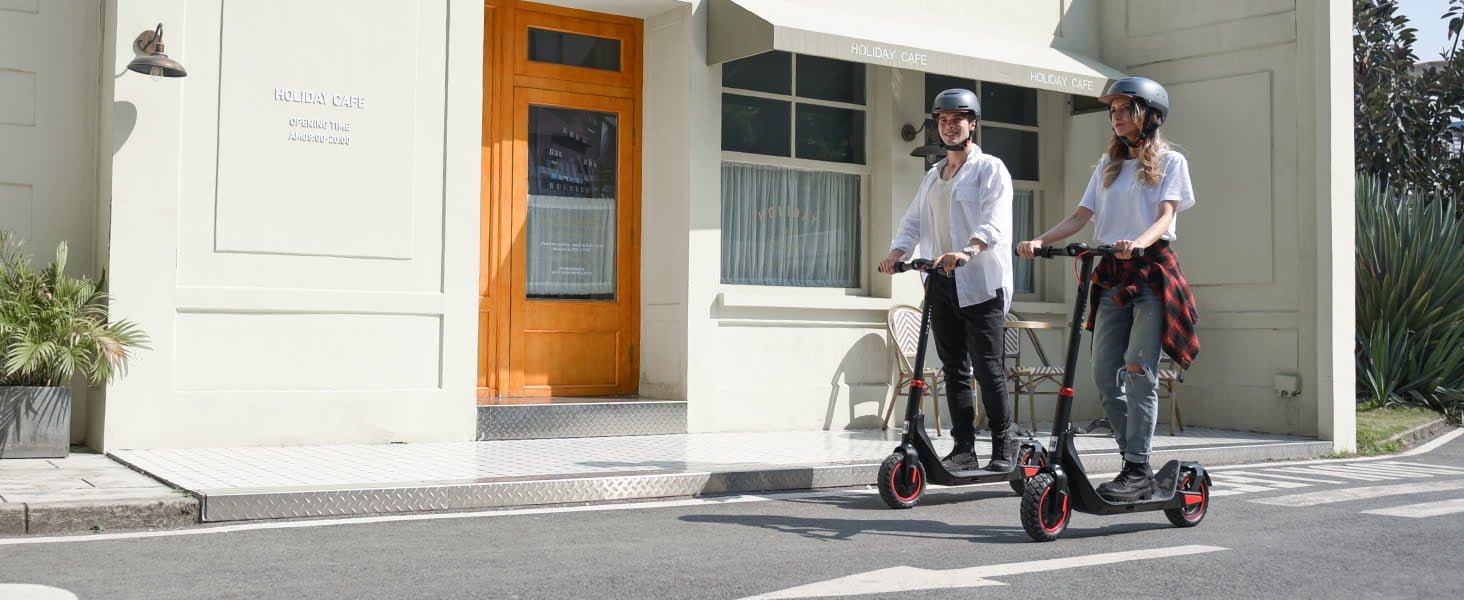 Appearance And Aesthetics
Looking at the 5th wheel G1 its a good looking electric scooter. Its made from plastic, magnesium alloy and aluminum so that it has a maximum weight capacity of 265lbs. Additionally, 5th wheel equipped the G1 with a rear disc brake and electronic braking so you can stop confidently when you really need to. This is the first electric scooter 5th wheel has released with pneumatic tires. Their previous models all had solid tires, so this is new for 5th wheel. The tire size is 10″x 3″ but the tires are super fat and are really nice for cornering. Below is a full list of specs for the 5th wheel G1 electric scooter.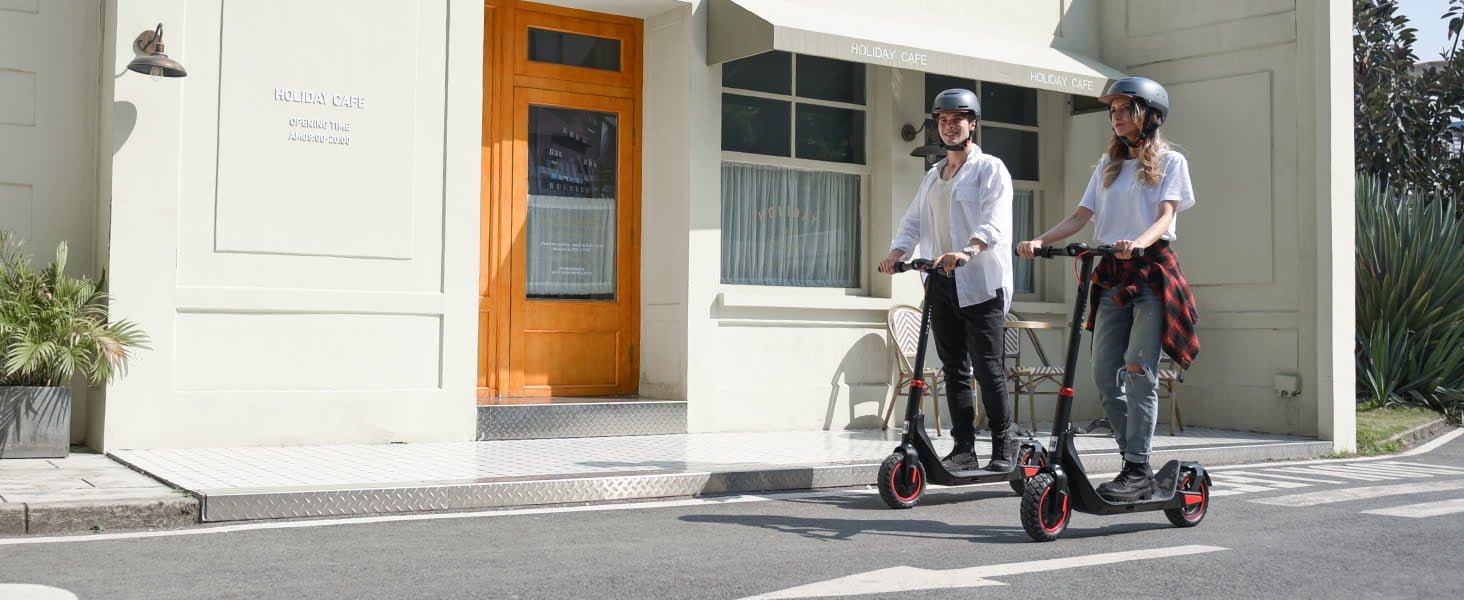 5th Wheel G1 Specifications:
How is the ride experience on the 5th Wheel G1?
I wasn't sure what to expect with the G1 electric scooter. Its a 400w, 19mph, no suspension, lightweight electric scooter. How good could it be for $500 right? Is it a candidate for an electric scooter for commuting?  I am here to tell you I was very pleasantly surprised! Its actually a really nice high quality, solid electric scooter. Let me break down each element and the experience I have had so far with the 5th wheel G1.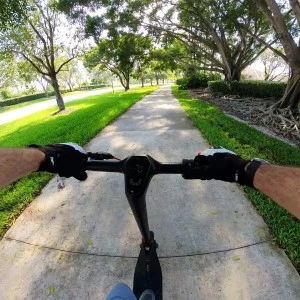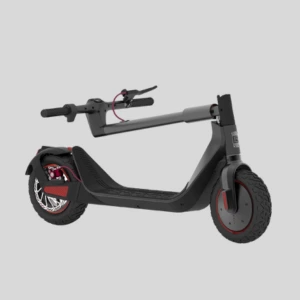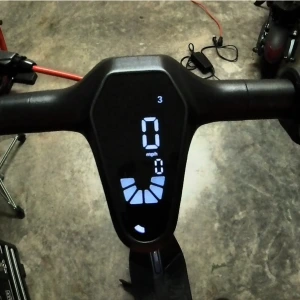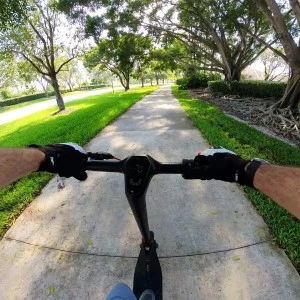 5th Wheel G1 Acceleration:
This has a lot to be desired. To be fair I am used to my much more powerful Nanrobot D6+. In my video I do an acceleration test to see how long it would take to reach top speed. It took about 9 seconds to reach the top speed of 19mph which isn't bad. But its not breaking any records. Don't get me wrong its not slow and it does only have a 400 watt motor. For a commuter you don't really need fast acceleration so its not really a factor. It does pretty good for what its been equipped with.
10 Inch Pneumatic Tires –
The ride is actually really nice with the new pneumatic fat tires 5th wheel has put on the G1. The 10″x 3″ pneumatic fat tires do a really good job of cushioning the bumps and cracks in the sidewalk. I was worried about the scooter not having a front or rear suspension but the fat tires do a really good job. The tires are what's known as hybrid tires. They are not just street or not just oof-road tires. You can do both because while it does have little nubs on the tires for off-road, they are not too big to be used on the street.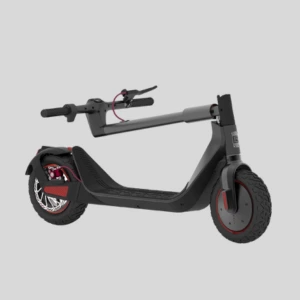 Stem/Folding Mechanism –
The stem is very sturdy and has no play in it at all. So you feel confident the stem and scooter are one when riding which is a good feeling to have. 5th wheel claims to have the very first "hidden" folding mechanism. Its actually pretty easy to use. First you twist the red knob from "off" to "on". Then you slide up the sleeve and engage the spring. Then fold down the stem and it will automatically lock in place. It takes all but 3 seconds to do. This is one of the features that makes it a great electric scooter for commuting.
5th Wheel G1 Disc/EABS Brakes – 
The 5th wheel G1 is equipped with a dual braking system. There is a rear mechanical disc brake which is controlled by the right hand brake on the handlebar.  The G1 is also equipped with a light EABS electronic braking. I have not found a way to control the intensity of the braking or to turn it on or off yet. I believe its set from the factory. Its a verry light electronic braking which is nice compared to others. The disc brakes are a little squeaky but work well. If you are riding an electric scooter for commuting, you need to make sure you can stop on a dime!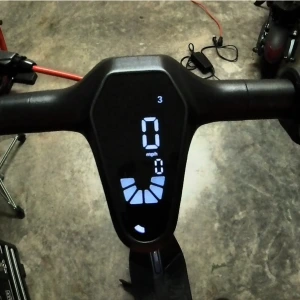 LCD Screen – 
The screen is not bad but it can be hard to see in direct sunlight. You can control the brightness on the app when you have it connected to your scooter. The screen shows you your speed mode, current speed, mph/kmh, battery life, throttle input and headlight icon. You can use the power button to go through the menus manually if you are not connected to the app. One click changes speed modes. Two clicks changes from MPH to KMH. Three clicks shows you your total miles on the scooter and after 5 seconds will return to the current milage for the trip you are on.
Pavement Riding –  
The 5th wheel G1 is equipped with hybrid tires that are nice and grippy on the road. It rides really smooth, even over cracks and bumps in the road or sidewalk. This is the first electric scooter 5th wheel has released with pneumatic tires and they do help make up for the lack of suspension. The wide fat tires allow you to lean into your corner when turning and you don't feel like you are going to slide out and crash. This makes it a great option for an electric scooter for commuting.
Off-Road / Grass Riding –
The G1 does pretty well on light trails and grass. In my video I tested it on some grass on a golf course and also some much longer grass off the golf course. I rode it up hills in the grass and it did pretty good. It slowed down, sometimes to a crawl but was always able to power up the hill. On flat grass I was able to hold a pretty good speed without slowing down too much. Even in the long grass. Overall, I don't think you will have any problems riding the G1 in short to medium grass.
5th Wheel IOS or Android App
The 5th wheel app is available for IOS and android devices. To download go to your app store and search "5th wheel". Once downloaded open the app with your G1 powered on. Next go to your bluetooth settings and you will see your electric scooter there. Select the scooter and after just a few seconds it will connect to your G1 electric scooter. Once connected you will see information appear on screen including your single milage, MSpeed and total milage.. Below I will go over all of the functions of the 5th wheel app.
App Functions:
Gears – This allows you to change into modes like sport mode, eco mode, balanced mode and hill mode.
Speed Unit – Change from MPH to KMH.
Backlit Settings – Change the brightness of your backlight on your screen from 1-5.
Headlight – Allows you to turn your headlight on and off.
Cruise Control – Set the cruise control to enable after 3sec, 5sec or not at all.
Lock – This feature enable you to lock the G1 for security reasons when you have to leave the scooter unattended.
Self Inspection – My favorite feature! It self checks itself to make sure everything is working right before you go on a ride.
Conclusion:
The 5th wheel G1 electric scooter is an excellent choice for riders who are looking for a quality, durable, and efficient scooter. Its easily one of the best choices for electric scooter for commuting. With its 1-year warranty, you can count on this scooter to be a worthy investment. The G1 is designed with high quality components that are designed to last.  The G1 has a sturdy stem and hidden folding mechanism that is easy to use. This makes it perfect for commuting or carrying in your SUV to enjoy a ride by the beach or at a park.
With its 400 watts, the G1 can reach up to 19mph, making it fast enough to have fun without compromising your safety. The thumb throttle is my favorite feature and the grips are very grippy, making it easy to maneuver even on bumpy terrains. Its fat tires provide great cushioning and cornering ability, making sure you can ride safely and comfortably on or off the road. If you want to purchase a 5th wheel G1 please see the link below. 
Check Out More Electric Scooter Related Reviews (Click Below)