Nanrobot D6+ Electric Scooter Review
The Nanrobot D6+ is an electric scooter that has been designed to meet the needs of all types of riders. Whether they are beginners or advanced. It offers a unique combination of performance and affordability, making it one of the best electric scooters available today. It comes with a great warranty, spectacular customer service and plenty of parts available when you need them. What I was looking for was something in my budget of up to around fifteen hundred dollars. I wanted high quality, I needed good customer service, and I needed a warranty and the ability to be able to get parts when something breaks. So lets go over why I think the Nanrobot D6+ is the best electric scooter for beginners and advanced riders!
How Fast Is The Nanrobot D6+? What Is The Range?
One of the standout features is its powerful dual 1000-watt motors. These motors allow the scooter to reach speeds of up to 40 mph, making it one of the fastest electric scooters on the market. Additionally, the scooter has a range of 40 miles on a single charge. Which is ideal for longer commutes or weekend adventures. While the stated range is 40 miles, you will probably get 50%-75% of that range in real world conditions. Your ultimate range depends on your weight, whether you use single or dual motor and the air pressure in your tires.
The Nanrobot D6+ has also been designed to be able to handle a variety of terrains, whether you are riding on the road or off-road. The scooter features hybrid tires that provide excellent traction, no matter the conditions. It also has a full front and rear suspension system that offers a smooth and comfortable ride, even over rough terrain.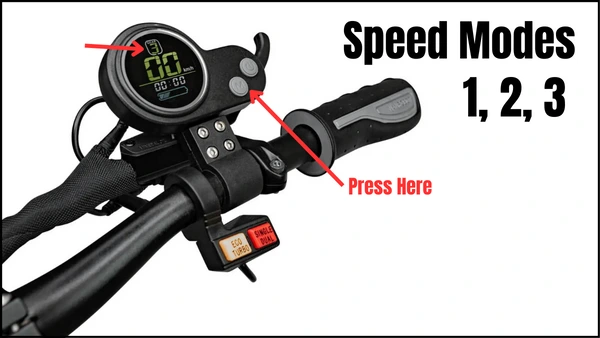 Is The D6+ Good For Beginners?
Now, you beginners are saying, "Wait Hobart, I'm a beginner, I don't want all that power and acceleration until I get a little bit more experienced." And you advanced riders are saying, "40 miles an hour, man, I can get a Kaabo Wolf and do 60." Yeah, but there are very few people that can handle the speed of 50 and 60 miles an hour on one of these scooters.
One of the great features about the D6+ is that it has different speed modes and acceleration modes. So, when you're first starting out, you can put the scooter in speed mode one, and that's going to limit your top speed. Once you get used to speed mode 1, you can gradually work your way up to speed mode 2 and eventually speed mode 3, which is full blast.
Beginners, you're gonna be glad after just a few weeks of riding that you've got a scooter that has more acceleration and speed available because I guarantee once you get used to it, you're going to want to use it. And if you're an advanced rider, you can just go ahead and start off in speed mode 3 with fast start enabled, and you'll accelerate as fast as a Tesla Model S Plaid to 40 miles an hour in a couple seconds.
So, as you can see, for both beginners, intermediate, and advanced riders, this scooter caters to all of you with the adjustability of the speed and acceleration to your liking. This is one of the reasons why I think it's the perfect scooter for everyone.
What Is The Range Of The Nanrobot D6+?
"All right, so let's talk about range for a minute. All scooters have a stated range, and as I've said in a previous video, during full performance, you're most likely only going to get 50% to 75% of that stated range in real-world conditions. Batteries are the most expensive part of the scooter, so a bigger battery does equal longer range, but it also costs more money. The Dualtrons, Apollos, and Cabos all have great range of 40, 50, or 60 miles, but they also cost twice as much as the D6 Plus. This scooter has a range of 40 miles, which in real-world conditions, I'll probably get 25 to 30 miles on one charge.  As you can see from this test done by electricscooterinsider
Beginners, believe me, after you drive 20 to 25 miles on your scooter, you're going to be ready to get off and take a break. Your legs are going to hurt. So, you don't really need to go 40, 50, or 60 miles. You have to pay for that range that you're probably not going to use most of the time. So, beginners, you can get that big boy range for a lower price, and for you advanced riders, you know this has plenty of range for what you need.
What Type Of Brakes Does The D6+ Have?
Let's talk about brakes. The Nanrobot D6 Plus has the option for regular disc brakes or upgraded hydraulic disc brakes. The brakes are adjustable at the grip and at the caliper. The brake pads are easily replaceable and I have made a video on how to replace them. Check out that video HERE. It also has electronic braking within the motors that you can set to off, one, or two. Now, one is going to give you medium braking while two gives you extreme braking. Now, it's a little sporadic for me, so I keep that feature off. It can scare you sometimes. The regular disc brakes are extremely good and will skid me to a stop if I need to.
Nanrobot D6+ & Accessories
Nanrobot D6+
The Nanrobot D6+ is an excellent electric scooter that offers a unique combination of powerful performance, versatility, and affordability. Whether you are a beginner or an advanced rider, this scooter is sure to meet your needs and provide you with an enjoyable riding experience for many years.
LS2 Assault Helmet
With speeds reaching up to 20 mph and beyond, it's important to invest in a helmet that meets safety standards. A full-face motorcycle helmet is the best option for high-speed riding. Regular bike and BMX helmets aren't designed for such speeds. At the minimum, look for a helmet with a DOT certification. A safer option is to look for a helmet with an ECE certification. This is a European standard that requires third-party testing to ensure its safety.
187 Killer Pads
In my research I found the 187 Killer pads to be both effective and affordable. Be careful, a lot of the pads you see out there are not really effective. You can still get hurt pretty bad if the pads are not made with enough padding to protect you in a fall. I bought them and they are incredibly well made and comfortable. I can drop to my knees and not feel a thing!
HWK Spyder Riding Jacket
The HWK motorcycle has built in elbow pads and a back plate to give you extra protection while you ride. The pads are removable so you can change them out as needed. The jacket is made from a durable textile material and has a removable thermal layer for those cold nights. The jacket also has several zipper vents when you need to circulate air. And has plenty of pockets for your keys, phone or other things you need to bring with you!
Freetoo Riding Gloves
I really like the look of these gloves. (Plus they  matched my jacket)  They are really comfortable with a soft material inside. The backside is mesh so its breathable and you also have knuckle protection to keep your knuckles safe in a crash. These gloves have the extra palm protection that is vital in a crash where you put your hands out in front of you to break a fall. They also have touchscreen compatible finger tips so you can still use your phone without taking your gloves off.
Niterider Bullett 200
This tail light emits 200 lumens and has 6 different light mode patterns. It charges via usb cable and will give you 16hrs of light on the highest setting and just over 29hrs of light on the  lowest setting. You will be able to get several rides out of the NiteRider Bullet tail light with just one charge. The NiteRider Bullet tail light tell you when its charged by showing a blue color when its off and an orange color when its time to charge. It attaches easily to your bike seat post or on your electric scooter behind your kick plate.
Magicshine Allty 2000
If you are going to be out at night its important to have a good head light.Magicshine / Olight are known for their lights. They are true to what they say so you can feel confident when buying one of their lights. The Allty 2000 puts out 2000 lumens using its 3 different bulbs. There is a focused beam, a wide beam and a flood light. You can choose to use one, both or all of them at the same time for maximum brightness.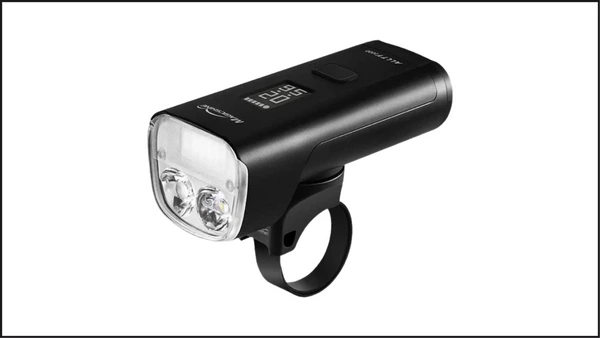 Check Out More Electric Scooter Related Reviews (Click Below)