Nanrobot Electric Scooter Seat
Welcome back to Hobart's Reviews! So, I finally got my hands on one of these guys: the Nanrobot electric scooter seat. I've wanted one for a while, but at $200, it's a little bit steep for my budget. A couple of weeks ago, Road Runner scooters put them on sale for $109, so I went ahead and snagged one up, and I've had it for a couple of weeks now. I've put some miles on it, and I've got some pros and some cons. I will tell you about those after I go over how to install the seat on your Nanrobot electric scooter. For those of you who are here to learn how to install it (because I didn't get any installation instructions), I'm going to go ahead and tell you how to do that now.
How To Install Seat On To Seat Post
One of the very first things that I want to go over is the seat and the seat post. These do come separate, but I don't think I need to go over in detail how to put a seat post onto a seat. I will tell you it comes with the generic seat insert that you remove. Then, you're going to take the seat post with its own bracket, shove it into the same place that was put, your bolt through, and you're good to go.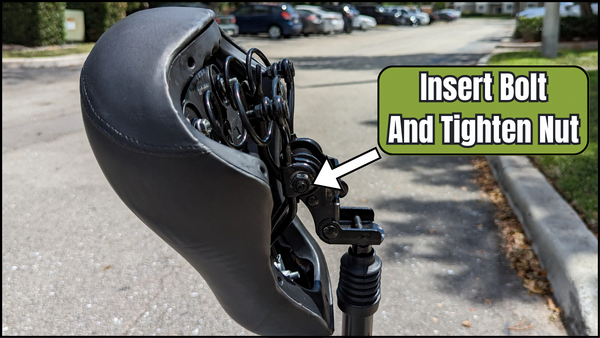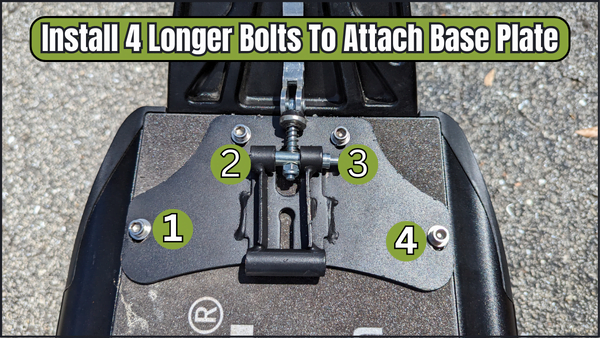 How To Install The Electric Scooter Seat Base Plate
The first thing you're going to need to do is install your base plate. The base plate has four holes. You're going to remove four of the bolts from the rear of your deck. Nanrobot gives us four longer bolts and some washers to replace them with. Once you remove the four rear bolts, then you're going to take the base plate and put it over those holes. Take longer bolts and go ahead and install them and get them tight. Its important to get these tight as this is what holds your electric scooter seat to the deck.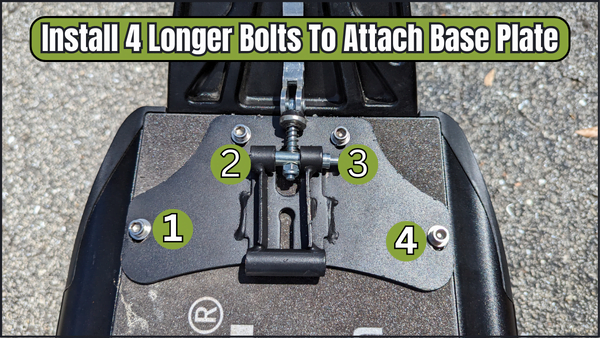 Then, you have a safety latch which also needs to be adjusted and tightened so that it can lock the base post down and keep your seat from folding down while you're riding. You need to tighten the nut so that when you latch it on to your base plate its tight. If you want to fold your seat down there is a spring powered latch that when pressed, releases your seat post so it can be folded down for transport.  
How To Install The Electric Scooter Seat Base Post
"All right, now that we've got the base plate on, let's go ahead and install the Base Post. The Base Post is pretty self-explanatory. You've got a latch adjustment up top to tighten your seat post down so it doesn't slide. Then you've got two holes in the front for your anchor bolt, which anchors it to your deck. And in the back, you have a little cut out for that spring-loaded pin that I told you about earlier that allows this to fold down. So let's go ahead and install it. First, you're going to set the base post right over the top, lining up the front holes. And then you can push the little spring-loaded pin in, and that will lock it to the deck. But without the front anchor bolt, it's not anchored to the base plate. So go ahead and put the anchor bolt into the front and tighten down to anchor it to the deck.
Now be careful with this guy because I've noticed since I've put this on just one time so far that this anchor bolt is super soft. The hexes are trying to strip almost immediately. So you do need to get this super tight. But at the same time, you want to be careful that you don't strip out those hexes. That's one of the cons that I don't like about this is those are super soft hexes. You're going to strip them out if you're not careful. Now that we've got that anchor bolt in, we've got our little safety pin in, but we still got some play in the base post. Well, that's where the latch in the back comes in. You're going to want to adjust and tighten the nut so that you can latch it in place and tighten it down to take away all that play. The little spring-loaded pin in the back allows you to fold your seat down. You have to push the spring loaded pin in order to release it.
How To Install The Electric Scooter Seat Post
So now we've got the Base Post and the base plate installed. The only thing left to do is to put the seat on, and that's pretty simple. You're just going to slide it down inside the base post.  Get it to the height that you like, and make sure you adjust the latch to be as tight as possible so that it doesn't allow any slipping. Speaking of slipping, that's one of the cons about this electric scooter seat that I don't like. I've noticed that when I leave to go ride and then come back, it's like an inch to an inch and a half lower than when I left. 
I was online and I found somebody on Facebook who had a fix for this. I don't know their name, but I want to give them credit for showing me. This is what they did: they took a piece of a broomstick, cut it off, shoved it down inside that tube, and installed their seat. Voila, no more slippage! I didn't have a broomstick handy, so what I did have handy is a piece of pipe from work. I used a piece of three-quarter-inch pipe. The outside diameter is just slightly smaller than the inside diameter of the base post. So I can take it and slide it down in the base post, put my seat post back in, and it stops right on that piece of pipe. Now when I go out, I come back at the same height as I did when I left, and I have no more slippage. So, there's a little hack for you.
Electric Scooter Seat Pro's And Con's
Final Thoughts On The Nanrobot Electric Scooter Seat
Other than that, I really like it. Couple minor tweaks, but overall, I would buy it again. I definitely like sitting down while riding. It's also great being able to lean into my turns. I just really like the overall experience. So, if you're wondering, should I buy one of these? Yeah, go ahead and pull the trigger. It's absolutely fun, it's absolutely awesome. I have put a link to purchase the Nanrobot electric scooter seat below in case you want to purchase one! Thanks for visiting Hobart's Reviews!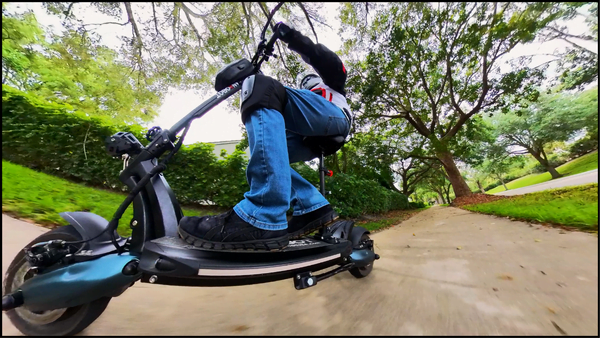 If you would like to purchase the nanrobot Electric Scooter Seat please click the link to the right to be taken directly to nanrobot's website to purchase.
Check Out More Electric Scooter Related Reviews (Click Below)