EMOVE RoadRunner Pro Review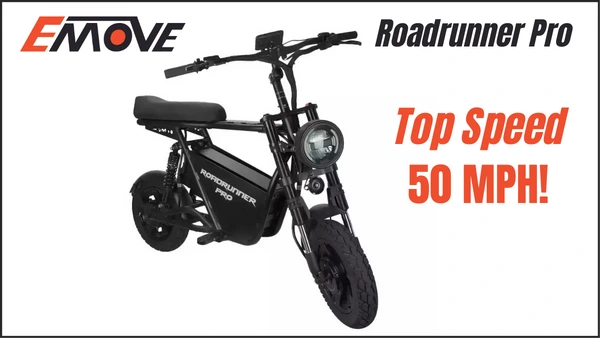 What do you get when you cross an electric scooter with a mini bike? The EMOVE Roadrunner Pro seated electric scooter. The roadrunner pro is the latest offering from EMOVE and a follow up to the original roadrunner electric scooter. The new roadrunner pro has more power and a higher top speed among some other improved features. Today we will go over the features and specifications of the new EMOVE Roadrunner Pro seated electric scooter and compare them to the previous version. I will also answer some of the most asked questions about the EMOVE Roadrunner pro so you can make a decision on whether its worth your hard earned cash or not.
Who Makes The RoadRunner Pro?
Voro Motors started out as an electric scooter retailer in Singapore. With lots of hard work over the years, they became the leading premium electric scooter manufacturer in the country. Unfortunately Singapore has a ban on electric scooters so they had to expand to international markets. Voro motors says they are open 7 days a week and will respond by chat almost immediately and by email within an hour. Voro motors also has over 300 videos to help with every aspect of your electric scooter. Voro Motors own in-house brand is EMOVE but they also makes some of the best electric scooter brands available. Some examples are to the right.—–>
How Big Is The EMOVE Roadrunner Pro?
The EMOVE RoadRunner Pro is engineered to handle some considerable weight. It may be small in size but don't be fooled. The seat is 20 inches long, the height from the ground to the top of the handlebars is 43.3 inches and the Roadrunner pro is almost 57 inches long. The emove roadrunner pro has a maximum weight capacity of 330lbs so it can handle even the biggest adult kids. But that's not all; the RoadRunner Pro is also incredibly comfy to ride.
The 20″ long padded saddle has plenty of room for all shapes and sizes of riders and the thick padding is easy on your rear end. The handlebars are wider coming in at 30.7 inches which gives the roadrunner pro a more stable ride at higher speeds. With wider handlebars, small inputs from you don't make as much of a difference. This is very important at 50mph! The Roadrunner Pro has 14″ x 2.75″ tubeless tires and EMOVE's new split rim which I will talk more about later. This makes it much easier to change tires than the original roadrunner electric scooter.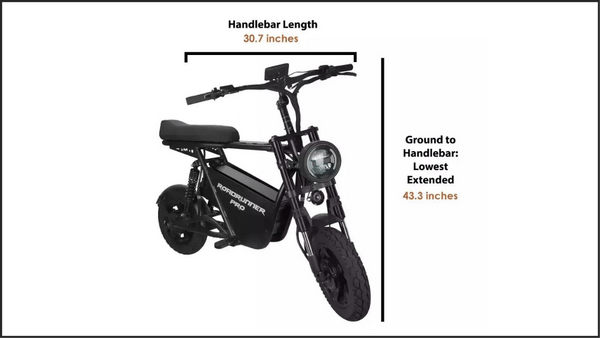 What's The Range Of The Roadrunner Pro?
The EMOVE RoadRunner Pro is equipped with an impressive battery, and it's not just because of its size. The 60v 30Ah battery is made from premium 21700 LG cells. This battery is the cream of the crop as far as e-scooter batteries. EMOVE states the range of the Roadrunner Pro is 50 miles. But as we all know you don't get close to the stated range in real world conditions. Rider Guide performed a test riding hard on their hilly test course and got 32.3 miles on a single charge. That's what you expect in real world conditions. I always say you get about half of what is stated by the manufacturer. With Rider Guide's "real world" testing it looks like the Roadrunner Pro performs a little better than half of the stated range which is great!
The battery on the Roadrunner Pro is removable making it easy to do a quick switch out to an already charged battery in no time. The ability to remove the battery also makes it easy to charge. This way if you are out somewhere and need to charge, you can easily remove the battery instead of  having to bring the roadrunner pro inside wherever you are.  From empty EMOVE states charging time to full will take about 10.4 hours. That's quite a lot. Fortunately EMOVE says because of the 16 AWG charging wires, you can put the roadrunner pro on charge and let it charge overnight without hurting the battery or your belongings.
How's The Acceleration On The RoadRunner Pro?
The EMOVE RoadRunner Pro is in some exceptionally fast company when it comes to speed. The RoadRunner Pro's dual 45A sinewave controllers deliver lots of power to the wheels. EMOVE states the roadrunner pro has 2000w of rated power in each wheel for a total of 4000w. That's a lot of juice!
One of the ways EMOVE gives us to manage all of that power is the twist throttle (similar to what's on a motorcycle). This makes it much easier to manage the power than the previous thumb throttle. The twist throttle enavles ytou to hold the grip without having to take a finger or thumb off to engage the throttle. Just twist and hold on tight!
Does The Roadrunner Pro Have Good Brakes?
The Roadrunner Pro has 180mm XTECH brake rotors and Zoom Hydraulic Brakes which are some of the best brakes on the market. These are an improvement over the original roadrunner hybrid brakes allowing for better stopping power. Hydraulic brakes are preferred over mechanical or hybrid brakes because they are easy to use, require little strength to engage and provide better stopping power overall. Voro motors includes Zoom hydraulic brakes on several of their electric scooters including, the Kaabo Mantis, Wolf Warrior and Wolf King scooter lines.
The Roadrunner Pro Has Rear Suspension!
The EMOVE RoadRunner Pro's new rear suspension is a welcome addition. The original roadrunner had only front spring suspension and no rear suspension. The new Roadrunner Pro has a custom dual crown fork, similar to the Kaabo Wolf King GT. This offers great front end stability and durability over the long run. The suspension system keeps you comfortably riding straight while providing outstanding pothole protection.
In addition, the RoadRunner Pro's rear twin spring suspension smooths out any jolts or bumps, making it a pleasure to ride on lengthy commutes. Owners of the original RoadRunner expressed numerous requests for this highly desired feature, and it is simple to understand why.
With its full suspension system, the RoadRunner Pro rides smooth even when cruising at 40 mph. Every detail of the RoadRunner Pro's suspension system has been meticulously crafted to provide the ideal riding experience. Whether you're commuting to work or going on a leisurely weekend adventure, the RoadRunner Pro's suspension system delivers unparalleled comfort and stability, allowing you to ride in style and confidence.
The Roadrunner Pro's New Split Wheel!
Let's face it: a flat tire is the absolute worst. So don't worry, VoroMotors has created a brilliant fix. The RoadRunner Pro's revolutionary split rim wheels with tubeless tires have been specially designed to make it simple to fix a flat, should one ever occur.
The flatter, wider profile of these 14″ x 2.75″ tubeless pneumatic tires is ideal for street riding and maintains stability at high speeds. Since the tire seals to the rim directly, tubeless tires eliminate the need for carrying or replacing inner tubes altogether.
And if you do have a flat, the split rim design of the RoadRunner Pro makes changing tires a breeze. You may quickly get back on the road by unplugging the plug-and-play motor, removing the hub's six screws, replacing the tire, and reinflating it.
Everyday transportation should be simple to maintain and fix, according to VoroMotors. Also, they've made it simpler than ever to maintain the functionality of your RoadRunner Pro by essentially creating the wheel with their ground-breaking split rim rims and tubeless tires. You can therefore be sure that the RoadRunner Pro will keep you covered whether you're driving down the road or setting out on a grand adventure.
                                                               Top Speed:   50 mph / 82 kmph                                                                  Tire Type:   14" x 2.75" Tubeless
                                                               Brake Lights:   Yes                                                                                                 Range:    50 mi / 82 km
                                                               Charge Time:   10.4 hours                                                                               Brakes:   Hydraulic 2-Piston Zoom Disc
                                                                Signal Lights: Yes                                                                                                Hill Climb Angle:   30 degrees
                                                               Battery: LG 21700 Cells 1800 Wh Capacity                                 Water Rating:   Light Rain
                                                               Max Load*330 lbs / 150 kg                                                                           Motor:   2000W Dual Hub (2) 4000W Peak Output
                                                               Controller:   45A Sine Wave                                                                       Headlights:   Yes
                                                               Item Weight:   114.4 lbs / 51.9 kg                                                            Throttle:   Twist
                                                               Display:   3.5″ VoroMotors TFT                                                                 Deck Lights:   No
                                                               Dimensions:   56.7″ x 30.7″ x 43.3″
EMOVE
Roadrunner Pro
You can only buy the Emove Roadrunner Pro from Voro Motors. It currently costs $2,895.00. You have the option to pay installments from $261.30 per month. As of the writing of this article the Roadrunner Pro is on pre-order as they have sold out of the first and second batch. The third batch should be ready to ship in April 2023. Voro Motors offers a 1 year warranty on new items and a 6 month warranty on certified refurbished products. Unopened and unused electric scooters may be returned within 10 business days and will incur a 15% restocking fee. Opened merchandise with less than 10 miles recorded by the scooter's odometer may be returned within 30 business days of delivery, and will incur a 20% restocking fee.
Check Out More Electric Scooter Related Reviews (Click Below)