Best Electric Scooters For Adults
  Electric scooters have exploded in popularity in recent years. It's no surprise why – they're convenient, eco-friendly, and a lot of fun. Why should the kids have all of the fun? Adults are just big kids at heart right?
With so many options to choose from, it can be hard to know where to start. That's where I come in! In this article, I'm going to dive into some of the best electric scooters for adults. I will give you several options to choose from, and the details you need to make an informed purchase.
Before we get started let me make this clear. The best electric scooter for you may be different than someone else. So this should be a guide to introduce you to new quality brands and educate you on some different price point and power levels of electric scooters. The rest is up to you!
What Should Adults Consider When Buying An Electric Scooter?
Before we get into the best electric scooters for adults, it's important to understand what you need to be looking for. Its not the same as looking for an electric scooter for your kid. We are larger and heavier, so these are important things to consider when choosing an electric scooter for any adult. Some examples we will be talking about are the maximum weight capacity, top speed, electric scooter range, portability, and more! Let's start out with the basics of what we as adults need to watch out for, and then I will get into some examples of the best electric scooters for adults!
Now that we have covered the basics on what we need to be looking for when buying and electric scooter, lets get to the list of the best electric scooters for adults! We will start with a few electric scooters for the beginner and budget conscious rider. 
Best Electric Scooter For Adults Under $1000.00
Ausom Leopard
- $849.00
The Ausom Leopard electric scooter is a versatile and powerful scooter that caters to both urban commuters and off-road enthusiasts. Its robust 1000W brushless motor propels you to speeds of up to 34 mph, enabling you to effortlessly zip through city streets or navigate challenging terrain. With a long range of up to 52 miles on a single charge, the Leopard ensures you can explore your surroundings without worrying about running out of power. The scooter's dual suspension system provides a smooth and comfortable ride, even on bumpy surfaces, while its dual disc brakes offer reliable stopping power in all weather conditions. The Leopard's foldable design makes it convenient for storage and transportation, and its adjustable handlebars and removable seat allow for a customized ride. Whether you're commuting to work, running errands, or exploring new trails, the Ausom Leopard electric scooter is a capable companion that combines power, versatility, and convenience.
Turboant X7 Pro
- $549.00
The Turboant X7 Pro is equipped with a 350-watt motor and a top speed of 20 mph. The 10 Ah battery is detachable, so you can switch out the battery and be back on the road in seconds. This is a great commuter scooter with a weight capacity of 275 lbs. It easily folds down in 3 seconds. The Turboant X7 Pro has a range of 30 miles on a single charge and can climb hills up to 15° with ease. One feature I really like about the Turboant X7 Pro is the thumb throttle. I like thumb throttles much better than finger throttles. With a thumb throttle, you can hold on with all of your fingers, which is not the case with finger throttles. The X7 Pro has a rear disc brake and a front electronic brake that work together to stop the scooter safely. This is a great scooter for the beginner with lots of electric scooter for the price!
EMOVE Touring
- $799.00
The EMOVE Touring a perfect mix of performance and range, even for heavier adult riders. This scooter has a rear 500w motor and a top speed of 25mph. The emove touring has a range of 32 miles and a weight capacity of 308lbs (140kg), So this should work for most adults. It also has full suspension and a wide deck for a nice comfortable ride. The Touring has a customizable cockpit, with a telescoping stem that can go as low as 28" for riding while seated or as high as 40" for taller riders. This electric scooter is equipped with a finger throttle, keystart ignition, voltmeter, horn, bell, light switch, and pull-release folding handlebars. With the powerful 500W motor, you can climb hills with up to 15 degree inclines and go from 0 to 15 mph in 4.5 seconds. The best part is that you get all of this for $799.00 and comes with a 1 year warranty backed by voro motors!
Hiboy S2 Max
- $809.00
The Hiboy S2 Max is an upgrade from the S2 Pro. It has almost twice the range as the Pro, with 40 miles on a single charge. The S2 Max has a 500-watt motor and a top speed of 19 mph. This is a great option for the commuter because the S2 Max easily folds up so you can put it in the trunk of your car or SUV. One very important feature on this scooter is the 10-inch air-filled tires. Most electric scooters in this price range have solid tires, and that can make for a very bumpy ride. The Hiboy S2 Max is equipped with a headlight and a taillight so you can see and be seen while riding at night. The S2 Max charges in about 6 hours and has a weight capacity of 220lbs. It's compatible with the Hiboy app which allows you to lock and unlock your scooter, get scooter stats, and control cruise control. This is a great electric scooter for adults and its affordable too!
Best Electric Scooter For Adults Under $2000.00
Ausom Gallop
-$1249.00
The Ausom Gallop is a powerful electric scooter with two 1200W motors that can reach a top speed of up to 41mph and climb inclines of up to 35%. It has a 23.2Ah battery that can last for 55 miles on a single charge under certain conditions. It also has dual charging ports, so it can be fully charged in just 6 hours using two chargers. The Gallop also has an electronic brake and dual hydraulic disc brakes for safety. The Gallop has a smart LCD display that shows the rider's speed, trip distance, speed mode, dual and single motor indicators, and remaining battery power. It also has professional off-road tires that are 10 inches in diameter and 3.15 inches wide. If you are looking for FAST acceleration, this is the perfect scooter for you!
Nanrobot Lightning
-$1299.00
The Nanrobot Lightning 2.0 gives you the power, speed, and range of a much more expensive electric scooter at a much more affordable price. The Lightning has a 48-volt battery and dual 800-watt motors, which gives it a top speed of 30 mph! The weight capacity is 280 pounds, so it's a great fit for most adults. Nanrobot promises you will get 20–25 miles of range in Turbo mode and even more in Eco mode. The Lightning has disc brakes on the front and rear and is also equipped with 8-inch solid tires. Usually, solid tires make for a rougher ride, but somehow Nanrobot figured out how to give the Lightning a nice smooth ride! The new 2.0 version has a new LCD display, separate throttle, and upgraded handlebars. You get a lot of electric scooters for $1299, so if you want a big boy scooter for an affordable price, get a Nanrobot Lightning 2.0!
EMOVE Cruiser S
- $1399-$1499
The EMOVE Cruiser is a long-distance electric scooter that comes in 6 colors and has a range of an incredible 62 miles! Its large deck includes mounting posts, making it easy to add a seat or a storage case. This e-scooter has tubeless tires that are similar to those found on vehicles. They have been tested to withstand potholes and rugged terrain. EMOVE says the new tires have reduced tire punctures by 99%.The Cruiser has a waterproof LCD display. The handlebars are foldable and height-adjustable, so they can accommodate any size rider. The EMOVE Cruiser also has three throttle settings for adjustable acceleration, allowing you to limit your speed until you get more comfortable. The EMOVE Cruiser is a dependable and practical electric scooter for commuters thanks to its long-range capabilities and customizable options.
Nanrobot D6+
- $1599
The Nanrobot D6+ 2.0 is my personal favorite. It's a lot like the Lightning, except it has more power, more speed, and is suitable for off-road. The D6+ is equipped with dual 1000w motors, which push the scooter to a top speed of 40+ mph! The D6+ has a 52V/26A battery, which gives the scooter a range of 40 miles. It features 10-inch pneumatic off-road tires and a dual suspension system that offers excellent ride comfort, traction, and efficiency for both short and long-distance rides. The D6+ is great for adults because it has a maximum weight capacity of 330 lbs. Its equipped with a halo headlight, an horn, taillights, and blinkers so you will be visible at night. The D6+ is a fast electric scooter with an amazing range, excellent battery life, and several standout safety features? Then the Nanrobot D6+ is a great electric scooter for adults of all ages!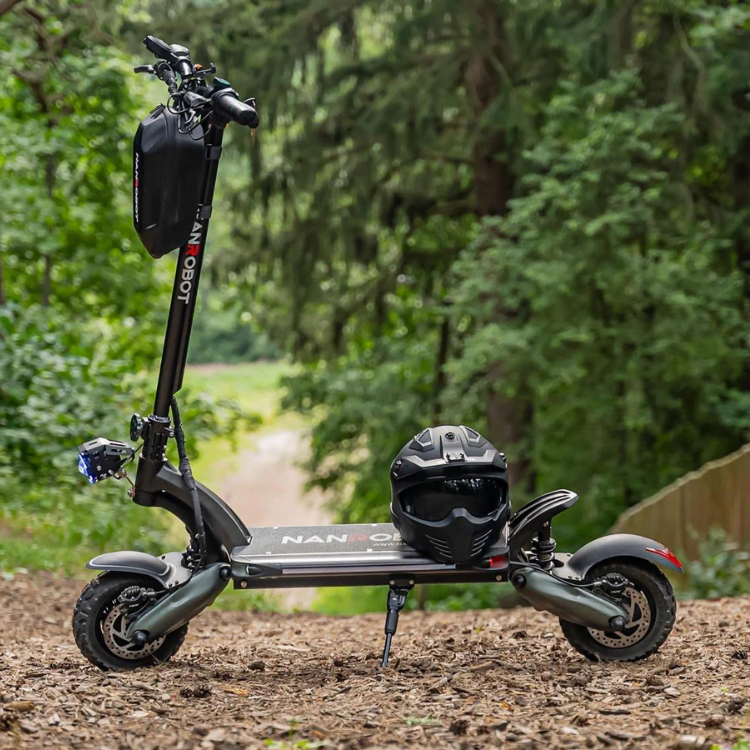 Kaabo Mantis Pro SE
- $1795
The Kaabo Mantis Pro SE electric scooter is also powered by a 60-volt, 24-amp-hour battery and dual 1000-watt motors. This enables the Mantis Pro to reach 15mph in 2 seconds, achieve a top speed of 41 mph, and have a range of 45 miles on a single charge. This is one of the best electric scooters for adults because its maximum weight capacity is 330 lbs. It has a modern design with many of the cables neatly tucked away, is easy to fold, and weighs less than 70 lbs. If the weather is bad, you don't need to worry. The front and rear fenders keep water and debris from hitting you on your commute. With a rubber deck cover, the Mantis Pro scooter has lots of grip, making it easy to stay on, even at high speeds. If you are looking for an electric scooter with serious range and serious speed, then the Mantis Pro SE is a great option!
Best Electric Scooter For Adults Where "Price Doesn't Matter"!
Kaabo Wolf King GT
- $3,495
If you are a rebel and have money burning a hole in your pocket, then I have the perfect electric scooter for you! The Kaabo Wolf King GT is one of the fastest and longest-range electric scooters on the market. It features a 72 volt, 35 AH battery that gets a range of 74 miles! The Mantis King GT is powered by dual sine wave controllers which delivers smooth acceleration from the starting line all the way up to its 63 mph top speed. The Mantis King has a 4.2" TFT display with anti-glare that we love. Yes, it's got password protection, is full color, auto-dims, and is great to look at, even in the sun! Combining fat 11" x 3.5" self sealing anti-puncture tubeless street tires with hydraulic front suspension and rear spring suspension, the Wolf King GT can kick up dirt on city streets as well as it does country roads. If you want to get serious about electric scooters, this is the one!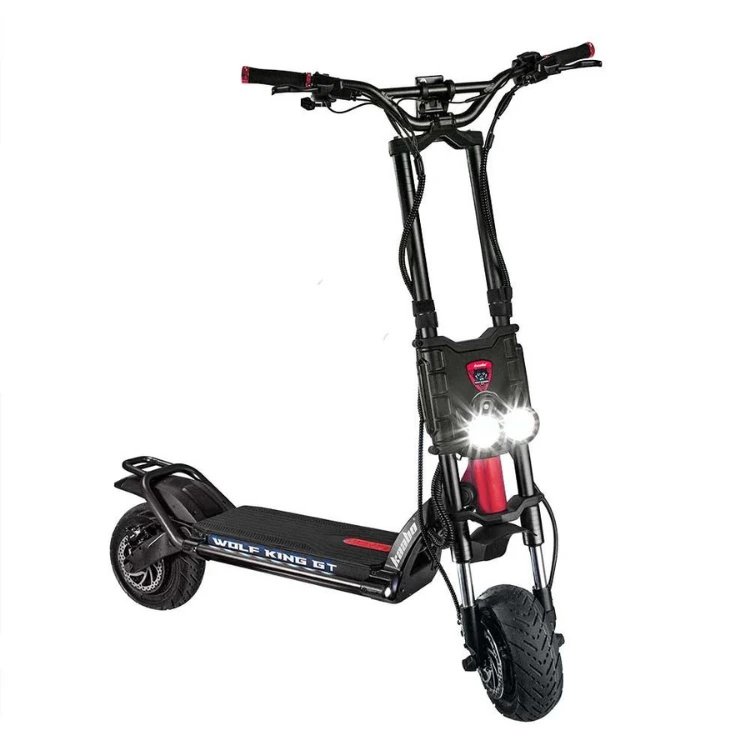 Dualtron Thunder 2
- $4,299.00
The Thunder 2 has twice the power of the original with dual 5400-watt motors and a top speed of 60 mph! The Thunder 2 currently has the most range of any Dualtron electric scooter. It has been tested in real-world conditions and gets 60 miles of range when ridden hard. When ridden conservatively, the Thunder 2 can go 71 miles. The Thunder 2 has bonded sealant in the 11" x 3.5" tubeless tires, making them highly flat-resistant. With solid rims that are separate from the motor, it's easier to remove and repair the tires without worrying about motor cables. The Nutt hydraulic brakes have 160 mm rotors and are powerful and easy to operate. The Thunder 2 has high-quality handlebars, an LCD display, and controls for headlights, taillights, and blinkers. If you want one of the best, get the Dualtron Thunder 2!
Dualtron X Limited
- $6,995.00
One of, if not the, most insane electric scooters on the market today is the Dualtron X Limited! The X Limited has an 84v 60ah battery in the deck and an 11v 20ah battery in the stem for a total of 95v and 80ah of power. This is Dualtron's most powerful scooter yet! The Dualtron X Limited has a top speed of 70mph and a range of 100 miles! The X Limited is the first electric scooter to come with Minimotors' new widescreen EY4 display, which is Bluetooth capable and pairs with the Minimotors app. This allows you to check multiple functions at once, like remaining mileage, cruise control, riding mode, battery voltage, battery percentage, odometer, speedometer, and temperature. The maximum weight is 330lbs so almost any adult can ride the X Limited with ease. If you want the ULTIMATE electric scooter for adults, this is your scooter!
Best Seated Electric Scooter For Adults
EMOVE Roadrunner Pro
- $2,895.00
The EMOVE Roadrunner Pro is taking the electric scooter world by storm. The idea of a seated electric scooter is interesting. Roadrunner has updated the original Roadrunner with more power and features. The roadrunner pro now has dual 1000w motors and a top speed of 50mph. Its equipped with a 60v 30ah LG battery and a 45w sine wave controller. With all of that power the roadrunner pro has an impressive range of 50 miles. The tire size is 14" x 2.75" and EMOVE wquipped the roadrunner pro dual hydraulic 2-piston zoom disc brakes for incredible stopping power. If oyu like riding at night like I do the roadrunner pro has a moto style headlight and a taillight with turn signals built right into the back of the seat. The EMOVE Roadrunner Pro is the best seated electric scooter for adults currently.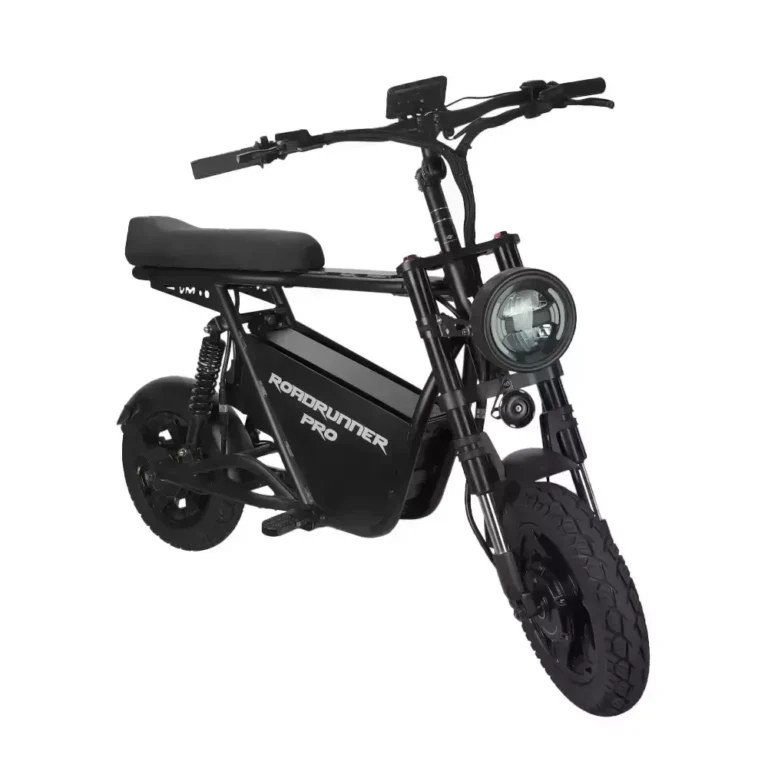 Conclusion
When searching for the best electric scooter for adults, there are several factors to consider. Top speed, acceleration, weight capacity, portability and cost are all important features to look for. Additionally, if you're a commuter who needs to take your electric scooter on public transportation or store it in a small space, you may want to consider a folding electric scooter.
Some of the top brands in the electric scooter market include Nanrobot, EMOVE, Kaabo, Turboant, Hiboy and Dualtron just to name a few. Each of these brands offers high-quality electric scooters with different specifications to meet a variety of needs. Whether you're looking for a commuter-friendly option or a powerful ride with impressive speed and acceleration, there's sure to be a model that fits your preferences. So be sure to do your research and consider these top brands when choosing the best electric scooter for you.
Check Out More Electric Scooter Related Reviews (Click Below)